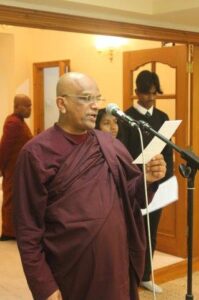 VESAK is a religious and cultural festival celebrated by Buddhists all over the world. It is celebrated in the day of full moon in the month of May with utmost devotion.
This day holds great importance for Buddhists as the day is marked important events that took place in the life of Buddha on this day. First comes the birth of prince Siddhartha Gautama in the year 623 B.C, in the Lumbini park, on the Indian borders of present Nepal. A pillar erected by king Ashok of India still stands to this day to commemorate this event. The second event was the attainment of Enlightenment by the Buddha, under the Bodhi tree in Bodhgaya in India. The third event was Buddha's passing away at Kusinagar in India. This year Vesak falls on 6th of May.
On Vesak, all Buddhist homes, Buddhists monasteries are illuminated with lanterns and lamps. Various Buddhist groups provide free food to people including lunch, dinner, snacks, drinks. Many devout Buddhists visit Buddhist Viharas on this day in early in the morning and observe Eight precepts and listen to Buddhist monks (Bhikku) who teach the teachings of the Buddha and practise Buddhist meditation. Many Buddhists practise generosity, morality and meditation on Vesak day and engage in various meritorious activities. May you be blessed by noble triple gems Buddha, Dhamma and sangha.
Rev. P. Hemaratana
Redbridge Buddhist Vihara
09 Balfour Road, Ilford.