Vaisakhi:- 14th April 2023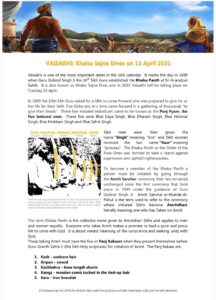 VAISAKHI: Khalsa Sajna Divas
Vaisakhi is one of the most important dates in the Sikh calendar. It marks the day in 1699 when Guru Gobind Singh Ji the 10th Sikh Guru established the Khalsa Panth at Sri Anandpur Sahib. It is also known as Khalsa Sajna Divas which usually takes place on 13 or 14 April.
In 1699 the 10th Sikh Guru asked for a Sikh to come forward who was prepared to give his or her life for their faith. Five Sikhs one at a time came forward in a gathering of thousands "to give their heads". These five initiated individuals came to be known as the Panj Pyare, the five beloved ones. These five were Bhai Daya Singh, Bhai Dharam Singh, Bhai Himmat Singh, Bhai Mokham Singh and Bhai Sahib Singh.
Sikh men were then given the name "Singh" meaning "lion" and Sikh women received the last name "Kaur" meaning "princess". The Khalsa Panth or the Order of the Pure Ones was formed to take a stand against oppression and uphold righteousness.
To become a member of the Khalsa Panth a person must be initiated by going through the Amrit Sanchar ceremony that has remained unchanged since the first ceremony that took place in 1699 under the guidance of Guru Gobind Singh Ji. Amrit Sanchar or Khanda-di-Pahulis the term used to refer to the ceremony where initiated Sikhs become Amritdhari, literally meaning one who has Taken on Amrit.
The term Khalsa Panth is the collective name given to Amritdhari Sikhs and applies to men and women equally. Everyone who takes Amrit makes a promise to lead a pure and pious life to unite with God. It is about inward cleansing of the conscience and seeking unity with God.
Those taking Amrit must have the five or Panj Kakaars when they present themselves before Guru Granth Sahib Ji (the Sikh Holy scriptures) for initiation of Amrit. The Panj Kakaar are:
Kesh – unshorn hair
Kirpan – sword
Kachhehra – knee length shorts
Kanga – wooden comb tucked in the tied-up hair
Kara – iron bracelet
© Produced by the APPG for British Sikhs with the assistance of Sikh Federation (UK) and the Sikh Network