RFF Network Meeting – Your Health and the Services provided byyour Local NHS Hospitals – Tuesday 18th July 2023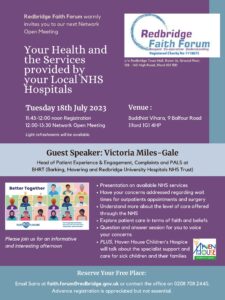 Redbridge Faith Forum Network Open Meeting
Venue: Buddhist Vihara, 9 Balfour Road, Ilford IG1 4HP
When you are in good health you don't really stop to think about the different health services  that are available as they aren't relevant. However, we should all be aware that circumstances can change overnight, through accident or injury or through the diagnosis of a serious or life-changing illness, either for ourselves or for a family member. It is then that we want to know exactly what services are available for us and we come to realise that we are indeed fortunate to have a National Health Service that is available for all to access when we do have health concerns.
We heard today from Victoria Miles-Gales Head of Patient Experience & Engagement, Complaints and PALS at BHRUT (Barking, Havering and Redbridge University Hospitals NHS Trust) and her Team on the topic of Your Health and the Services provided by your Local NHS Hospitals.
Victoria gave some background on BHRUT. We provide acute hospital services to the 750,000+ residents of Barking and Dagenham, Redbridge and Havering. We have a staff group of over 7,500 people – many of who live within the 3 boroughs we serve.  Our two main hospitals – Queen's and King George, provide a wide range of health services including emergency care (A&E), maternity, surgery and cancer.  We have one of the leading neurosciences services in the area and patients are often transferred to Queen's Hospital if they are complex.  We also provide a range of outpatient services including diagnostics including phlebotomy and radiology.
We also heard from Rev Phil Wright about the chaplaincy work.
The meeting was chaired by Phil Butcher, Redbridge Faith Forum and 45 plus people attended. Welcomed  so many new and familiar faces to the Face to Face Network Meeting at the Vihara.  A huge thank you to Rev Hemaratana and the Buddhist community for the huge range of refreshment. Full report to follow