POSTPONED: RFF ANNUAL WALK OF PEACE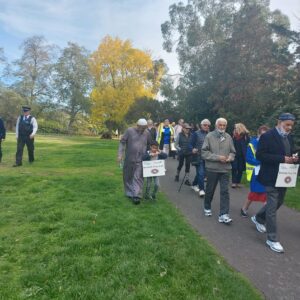 POSTPONED: RFF ANNUAL WALK OF PEACE 
In light of what is happening in Israel and Gaza and the fragility of the public response to this, the RFF Trustees have consulted together and reluctantly made the decision to POSTPONE the Walk of Peace which was taking place this Sunday 22nd October.
Our Walk of Peace has always been a uniting and harmonious event in Redbridge and we would not like it to attract the wrong kind of attention or be a target for outsiders intent on mischief making. The Walk of Peace and its ideology of peace and unity is supported equally by all faiths in Redbridge.
We realise that this will be disappointing news as our Walk of Peace is a much anticipated event but we will be in touch with a new date for the Walk of Peace in Spring 2024.
Meanwhile please keep in your prayers all those affected by the very sad situation in Israel and Gaza.