RFF Network Meeting "Festivals & Holy Days Bringing Communities Together" on Tuesday 25th April 2023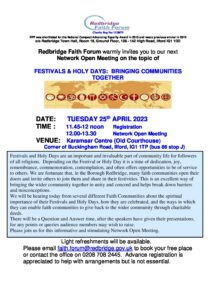 Network Meeting -Tuesday 25th April 2023- Karamsar Centre, (old Courthouse) corner of Buckingham Road, Ilford IG1 1TP
"Festivals & Holy Days: Bringing Communities Together?"
Festivals and Holy Days are an important and invaluable part of community life for followers of all religions. Depending on the Festival or Holy Day it is a time of dedication, joy, remembrance, commemoration, contemplation, and often offers opportunities to be of service to others. We are fortunate that, in the Borough Redbridge, many faith communities open their doors and invite others to join them and share in their festivities. This is an excellent way of bringing the wider community together in unity and concord and helps break down barriers and misconceptions.
We heard today from several different Faith Communities about the spiritual importance of their Festivals and Holy Days, how they are celebrated, and the ways in which they can enable faith communities to give back to the wider community through charitable deeds.
The meeting was chaired by Vinaya Sharma, Vice Chair of Redbridge Faith Forum and 35 plus people attended. Vinaya welcomed so many new and familiar faces to the Face to Face Network Meeting at the Karamsar Centre.
We heard from Vinaya about the many Hindu festivals, and that Festivals generally incorporate many things; a holiday, a celebration, fun, a feast, new clothes, dancing, singing, crackers, rituals, blessings- all of them linked . So much is generated by the word "Festival '.
Rituals relate to the culture and heritage and become traditions and the Festivals bring people and communities together.
In India the Hindu Faith has over 500 listed festivals a year, revolving around the change in seasons and the historical background. Vinaya listed some of the main ones that are popular like Navratras which is celebrated twice a year
In January they celebrate Makar Sakranti, saying goodbye to winter.
In February they celebrate MahaShivrati – a spiritual festival of Lord Shiv ji which also commemorates the wedding of Shiv ji and Parvati.
Holi is celebrated in March and welcomes Spring. This is a time to bring out and set fire to winter rubbish to get rid of it. The next day is celebrated with coloured water to welcome Spring.
End of March beginning of April are 9 days culminating in the celebration of Ram Nauvmi.
Basakhi is celebrated on 13/14 of April and is listed as the start of New year in the Punjab and the Sikh community all over the world.
May celebrates Hanuman Jayayanti.
July Guru Purnima – On the full moon day in July Hindus pay respects and interact with ALL those who are considered Gurus starting with Parents, Teachers, spiritual gurus, other elders and leaders in the Community.
Rakasha Bandan or Rakhi is held in August. This is to acknowledge and strengthen the relationship between brothers and sisters and/or friends.
Krishna Janam Ashtami is celebrated n September and it is also beginning of Navratras as mentioned below
End of September beginning of October are 9 days culminating in the celebration of Dushera. In both Navratras and Dushera nine Devis and their Shaktis or powers are highlighted and celebrated with the aim of bringing positive thinking in our own life.
Diwali and New Year Festivals are held in November.
Vinaya concluded by emphasising that the above is a very small number of festivals.
Our second speaker was the Host, Harpreet Shergill from the Sikh Faith
Vasakhi is a wonderful time for Sikhs and is as important as Christmas is for Christians. It is the most important celebration of the year. The 13th of April is the day the Sikhs were given their identity, by the 10th Sikh Guru, Guru Gobind Singh Ji. He provided his Sikhs with a very visual identity including the turban and the beard and the five Ks, so that his Sikhs would stand out in crowd of thousands. Sikhs with this form and identity would be called the Khalsa, the Pure Ones. So that if anyone was ever in need they would easily and quickly see a Sikh and be able to ask for help. Sikhs would also bear the responsibility of looking different and easily identifiable and always be ready to serve and help when asked by any member of humanity. This happened 324 years ago at the time of Vasakhi in northern India in the Punjab, at Anandpur Sahib. This normally was a time after the harvest had been collected and people were celebrating the bounty of the land.
Fast forward to modern day and Sikhs celebrates this very historic event by coming together at the Gurdwara, the Sikh temple. They listen to the completion of the full recitation of Shri Guru Granth Sahib Ji, the living Guru of the Sikhs, given form in Holy Scripture. After this everyone gathers at the base of the Nishan Sahib in the grounds of the Gurdwara. The Nishan Sahib is the very tall flagpole that bears the flag of the Sikh nation. The flagpole is covered in very bright orange cloth with an orange and blue flag at the top. Every year at Vasakhi the cloth and the flag are replaced with a new one, and as part of this ceremony the flagpole is also washed and cleaned.
After this ceremony continuous hymns are sung and sermons given to the worshippers throughout the day. Langar (free communal meal) is served throughout the day to everyone, providing a hot meal, especially to those in need. Langar is also served every other day of the year, three times a day.
Vasakhi is also a time of spiritual reflection and renewal and a chance to renew and strengthen your relationship to God, to Waheguru. One of the core principles of Sikhism is to serve and help those in need. One practical example of doing this every day is the serving of Langar to everyone and anyone that comes to the Gurdwara including people of all faiths. We reach out to the community and help those in need and help local schools.
Vasakhi is a celebration of what it means to be a Sikh and a chance to showcase our values and the activities that we do every single day of the year as part of a life of service and helping humanity.
The third speaker was Rev Elizabeth Lowson, St Mary's Church, Woodford) from the Christian Faith
Rev Elizabeth mentioned that, today is St Mark's day and we remember St Mark as the writer of one of the Christian Gospels (accounts of good news of Jesus Christ). There are lots of Saints' days and many Christian Festivals celebrated in the Christian faith.
Her focus was on Holy Week and Easter which were recently observed in early April.
The date of Easter isn't fixed but is linked with the moon and the Passover festival. She spoke about the journey of Jesus from Palm Sunday to Easter Day and how Christians observe these days. She said some of these days are festivals and they're all holy days as the journey Jesus made is recalled and Christians recognise their own responses in emotion and commitment to faith in Jesus as they journey alongside.
On Palm Sunday Jesus travelled into Jerusalem on a donkey – and the people greeted him loudly and with great joy. Cloaks were thrown in front of the donkey (a sign of peace) and palms pulled from the trees as people shouted, 'Hosanna to the Son of David'. These days it is commemorated with a procession, singing and the carrying of palm crosses and some Churches will have donkeys.
During Holy Week Rev Elizabeth said many people attend Church each day and recall all that Jesus did and taught in the days after Palm Sunday. She focused on the major events of the week and so skipped from Sunday to Thursday.
On Thursday Christians celebrate the Last Supper, the origin of Communion and a Passover meal. She described how they wash one another's feet, as Jesus commanded, as a sign of the love they have for one another. The day starts in a celebratory way – in the morning Rev Elizabeth will go and join other clergy and renew her ordination vows with the Bishop at Chelmsford Cathedral. After they have celebrated Communion in the evening, the mood changes and the music changes. Christians take the sacrament, the consecrated bread to a chapel within the church as they recall Jesus going to the garden of Gethsemane to watch, wait and pray. The church is stripped of all the linens and silver and all the special things in recognition of how Jesus was abandoned. The congregation sit in the Chapel quietly until midnight.
Good Friday is solemn as Jesus' suffering and his dying on the cross Is recalled. In the bare Church there is a bare cross which some touch or kiss. Rev Elizabeth said she is always struck by the emotion of Good Friday as they gather with Christians of other denominations to pray and sing.
On Easter Saturday not much happens. They watch and wait and recall Jesus in the tomb. The flowers are prepared on Saturday for Easter Day.
Sunday dawns and with it a wonderful celebration – Easter Day is the start of 40 days of celebration because Jesus' resurrection from the dead is so important to Christians and to their faith. At St Mary's Easter Day is celebrated by arriving before it gets light and having a fire outside Church – She said that this year "we went up the Church tower to watch the sun rise and then we took the new Easter candle into Church, singing 'The light of Christ – Thanks be to God'. We rang handbells joyfully and later many more people joined us for Communion and to declare 'Alleluia – Christ is risen'. We enjoy chocolate Easter eggs – especially hollow ones which can remind us of the empty tomb".
Fourth Speaker was Rabbi Jordan Helfman (SWESSRS) Newbury Park, from the Jewish Faith
Rabbi Jordan explained that, it says in the Jewish holy book, the Torah, that we shall appear three times a year on pilgrimage (hag) before the Eternal our God. That used to take place in Jerusalem at the Temple. When the Temple was destroyed, they continued their observance of those three holy days, Pesach, Shavuot and Sukkot – at home as well as in the synagogue. The home is considered an echo of the Temple in Jerusalem – a mikdash me'at. Each of those celebrations has a harvest associated with it, and also a moment in Jewish history.
They also celebrate the preliminary holy days before Sukkot – the New Year – Rosh Hashanah – and the Day of Atonement – Yom Kippur. At the end of this season – the last day of Sukkot – they have a holy day, Shemini Atzeret – which is like God saying to all of them – we have had such a meaningful time together, please linger for one more day.
He also mentions that today is the Memorial Day for Israel's fallen soldiers and victims of terror. While the non-Jewish world celebrates Holocaust Memorial Day – the day that the International Community liberated the defenceless Jews in Auschwitz, the Jewish community celebrates Yom HaShoah on the day that Jews fought back in the Warsaw Ghetto.
Our final speaker was Mohamed Omer, Chair of Redbridge Faith Forum, and Gardens of Peace Cemetery from the Muslim Faith.
Mohamed started his talk by saying that as Muslims we celebrate life every day. There are two main festivals for Muslims, Eid ul Fitra and Eid ul Adha.
Eid ul Fitra is what Muslims have just celebrated after fasting for 30 days in the holy month of Ramadan. Fitra (compulsory donations) are made to charity before the end of the month, so others can celebrate Eid.
Ramadan is the ninth month of the Islamic calendar and Muslims believe that it is during this month that God revealed the first verses of the Quran to the Prophet Muhammad (peace be upon him). Muslims see this month as a time for reflection and self-purification, and abstain from certain pleasures in life, including food and drink, from sunrise to sunset. While fasting during Ramadan is one of the five pillars in Islam and is compulsory, there are exceptions, such as young children, those who are unwell and pregnant women.
In addition to abstinence from food and drink, there is also the performance of supererogatory nightly prayers; an increase in the recitation of the Quran; engaging in optional good deeds and abstaining from actions considered sins. There are other actions that Muslims carry out during this month. These actions include giving Zakat (charity), which is usually 2.5% of one's saving, and most Muslims discharge their obligatory charity (Zakat) during this month as the reward is 700 times greater if made during the month of Ramadan.
During Ramadan, Muslims wake up to partake in Suhoor – a meal just before dawn. Once dawn breaks, Muslims are considered to be in the state of fasting until sunset. At sunset, Muslims will break their fast, typically with dates and water. This is called Iftar (the breaking of the fast) and is usually followed by a meal. Breaking the fast at sunset is an occasion for family, friends and the community to come together. There can be whole street Iftars and in Saudi each Sheikh has a line of people that he gives food to so they can break their fast.
Eid Al Adha is celebrated during the Hajj period, (or pilgrimage to Mecca), and this translates as the "Feast of Sacrifice" (Abraham's sacrifice of Ishmael). The Hajj resembles the re-enactment of the experiences of the Prophet Abraham, whose selfless sacrifice has no parallel in the history of humankind. The Hajj is a religious obligation that every Muslim must fulfil, if financially and physically able at least once in his or her lifetime. On Eid al Adha, the meat is shared in 3 parts – family, relatives and the less fortunate.
Islamic New Year is subdued – very different, as there is a month of mourning due to the Grandson of the Prophet Mohammed (peace be upon him) being martyred in this month. There's also a difference of opinion about celebrating the day the Prophet was born.
Mohamed explained that as other faiths have certain days that are special on a weekly basis, every Friday is a special day for the Muslims.
Mohamed finished by saying all human beings are neighbours; from the same God and share the same values. He expressed the view that religious celebrations are important and should be shared with the community at large.
He then asked that we all, in our faith groups, pray for peace as this is needed in the world particularly at this time.
Once the speakers had finished, the session continued with Q&A with the panel of speakers.
Vinaya asked 'What does synagogue mean?' Rabbi Helfman responded, 'it has 3 terms: House of prayer, study and gathering'.
Peter; Redbridge Council: What are the greatest opportunities and challenges? The panel responded that the greatest challenge is the council and how valuable and important their support and encouragement is and how that support is transferred to the community. Redbridge Council have been very supportive of RFF up until now and really helped with enabling a lot of opportunities for community learning, training, signposting and generally bringing communities together. However as of 1st April 2023 Council funding is no longer given to RFF and, as it would appear that community cohesion is no longer top of Redbridge's list of priorities, this is going to be very challenging moving forward. We have made great strides in Redbridge and have a vibrant, mixed community that is for the most part practicing tolerance and understanding and working towards a cohesive society. RFF has been at the heart of this and there are plenty of opportunities to enhance that cohesiveness and grow together ad also provide a platform for important discussion, consultation and training, but it needs support from Redbridge Council to fully achieve this..
Vinaya also commented that we need to work with children and young people and encourage them to participate in community life and service.
Laki Redbridge Council – How can faith communities encourage their faith communities as 'stewards of the planet' to work together to help reduce the impact of climate change in our daily lives. The panel responded that a large event, like a festival, should be organised by the Council and members of the community to bring people together and raise public awareness. Many faith communities are already actively encouraging their congregation to be proactive in protecting our Environment. Many Places of Worship are committed to being environmentally aware and are changing the way things are done to reflect this, whether it be banning the use of plastics in their halls or recycling where possible or looking at different forms of energy etc. RFF has also held Environment awareness meetings to educate the wider community which have been well supported. It was pointed out that we cannot make people do things but we can influence and suggest ways.
Carol asked: As all of the faiths focus on acts of service as being part of one's faith, how does this translate in your faith serving the wider community? Some of the speakers had already addressed this point in their presentations but other responses from the panel of speakers highlighted the various charities (local and international) that are actively supported by the faith communities; the donating and cooking of food to be given to those in need on a daily basis and also relating to particular Festivals and Holy Days; the provision of food and clothing banks where donated items can be distributed to those who need them; providing warm spaces in Places of Worship or their attached halls during the cost of living crisis. It was also pointed out that small acts of kindness to a neighbour or person in need are also ways of serving others and spring from what our faiths teach about loving your fellow man. It doesn't have to always be big demonstrative acts. It should be part of our daily lives and as people of faith we are actively looking for ways of helping others.
Mohamed and Vinaya thanked all the Speakers and attendees, and Harpreet and his team of helpers at the Gurdwara for hosting the Network Meeting at the Karamsar Centre (Old Courthouse) and for the wonderful, delicious and ample refreshments. Those who were able to stay on were treated to a vegetarian Langar at the Gurdwara.