RFF AGM & Open Forum on 'Saying that final Goodbye'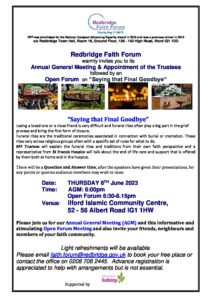 Redbridge Faith Forum warmly invites you to its
Annual General Meeting & Appointment of the Trustees
followed by an Open Forum on 'Saying that Final Goodbye'
Date: Thursday 8th June 2023
Time: AGM: 6:00pm Open Forum 6:30pm-8.15pm
Venue: Ilford Islamic Community Centre,
52 – 56 Albert Road IG1 1HW
"Saying that Final Goodbye"
Losing a loved one or a close friend is very difficult and funeral rites often play a big part in the grief process and bring the first form of closure.
Funeral rites are the traditional ceremonies associated in connection with burial or cremation. These rites vary across religious groups often with a specific set of rules for what to do.
RFF Trustees will explain the funeral rites and traditions from their own faith perspective and a representative from St Francis Hospice will talk about the end of life care and support that is offered by them both at home and in the hospice.
There will be a Question and Answer time, after the speakers have given their presentations, for any points or queries audience members may wish to raise.
Please join us for our Annual General Meeting (AGM) and this informative and stimulating Open Forum Meeting and also invite your friends, neighbours and members of your faith community.
Light refreshments will be available.
Please email faith.forum@redbridge.gov.uk to book your free place or contact the office on 0208 708 2445. Advance registration is appreciated to help with arrangements but is not essential.
Click here to view Poster