RFF 12th Annual Walk of Peace 19th SEPTEMBER 2021 "Faith, Water and The Climate Emergency ".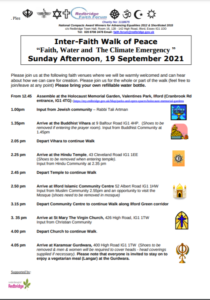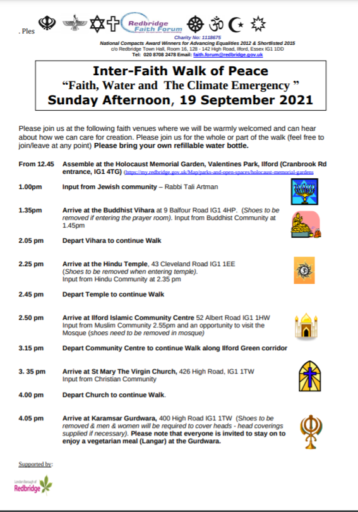 INTERFAITH WALK 2021 SEPTEMBER 19TH
This year's Annual Inter Faith Peace Walk, organised by Redbridge Faith Forum was held on Sunday 19th of September. We assembled  at the Holocaust memorial in Valentines Park in Ilford around 12.40 pm (IG1 4SB) for a sing along with Music Lounge and walk started at 1pm and pausing at different faith buildings in the town centre to finished at the Karamsar Centre
What is the InterFaith Walk
Redbridge Faith Forum has been organising Inter Faith Walks , through central Ilford every year since 2008. https://redbridgefaithforum.org/gallery/
People of all ages are welcome at the Walk.
We started at the Holocaust Memorial Gardens in Valentines park at 12.40pm, post code IG1 4SB) Then we walk meaningfully through Central Ilford, stopping at faith venues along the way, Including the Buddhist Vihara, the Mosque in Albert Road, the Hindu Centre in Cleveland Road, St Mary's Church in the High Road and ending up at the Karamsar Sikh Gurdwara in the High Road as well as pausing at significant public places along the way, including Ilford Train Stations, the Town Hall, the Central Library and green spaces alongside Winston Way. Last year's walk was virtual.
Faith Water and the Climate Emergency is the theme for this years walk
Redbridge Faith Forum has been engaged in climate change issues since 2005, when it produced a booklet called Faith Perspectives on Climate Change
In 2015, our interfaith walk focused on Climate change in preparation for the COP talks in Paris. Now once again, the theme this year will be on issues of climate change, in the build up to the UN conference (called COP 26) hosted by the UK government in November 2021. This is the crucial time and meeting where actions are needed by all nations to prevent catastrophic climate disasters through out the world.
We will be encouraging our faith groups here in Redbridge to focus on the issue of water as this affects so many people in the UK and in places of origin of so many families of Redbridge residents. There will be an input on water as it affected by climate change in each venue from each of the different faith perspectives
Over the coming weeks we will provide more information through our enews about the walk and what will happen on it and the themes will be uploaded on our website. https://redbridgefaithforum.org/climate-change/
What is COP 26 and why it is important to take action for climate justice?
Faith Groups are at the heart of all that is going in to support this, with the leadership of Faith for the Climate is a national organisation. They have the active support of environmental groups drawn from each faith community.
They are encouraging people of all faiths and none to take the climate crisis seriously and to use our voices to encourage our governments to take good action. Their website provides great information about this
Their website contains excellent material drawn from all faith perspectives active in UK, which we hope to use and adapt here in Redbridge Faith Forum
Take part in the Great Big Green Week
This year's interfaith walk in Ilford will be part of events going on throughout the UK and the world
In September, from 18th to 26th, the Climate Coalition is planned a "Great Big Green Week" in the lead up to COP 26. There will be lots of interesting events. For more information check out their website
As well as joining the Inter Faith Walk, you can also take part in the Great Big Green Week, by holding an environment of your own that week, through your faith group or voluntary organisation. For more details see: https://greatbiggreenweek.com/information-for-organisers/