COVID-19 – vaccinations in Redbridge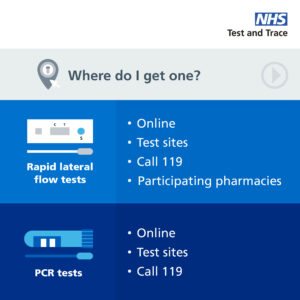 Residents are urged not to remain unprotected from COVID-19.  Everyone over 12 is now eligible to book their first or second dose of a COVID-19 vaccination and those aged over 18 now eligible to book their booster vaccination appointment by:
booking via the NHS website
booking by calling 119
visiting your local pharmacy – listed here
visiting one of the local vaccination centres listed on our website
The COVID-19 first, second and booster vaccine is also available for people aged 18 and over, who have had a second dose of a vaccine at least three months ago, at the following clinics:
King George Hospital, IG3 8YB
Monday – Friday 8:30am – 5pm Closed for lunch 12:20pm – 1:30pm
Saturday & Sunday 8:30am – 6:15pm Closed for lunch 1:20pm – 2:30pm
Fullwell Cross Medical Centre, Barkingside, IG6 2HG
Monday – Friday* 4pm – 6.30pm (walk-ins between 3:30pm – 7:30pm only)
*until 31 January no clinic will be available on 14 January
*from 17 January clinic times will change to 5pm – 6.30pm
Cleveland Primary School, Cleveland Road, IG1 1EW
Walk-in's available for children aged 12+, offering Pfizer 1st, 2nd and booster doses
Sir James Hawkey Hall, Woodford Green, IG8 0BG
Thursday 13 January 8am-5pm
Saturday 15 January 8am-5pm
Tuesday 18 January 8am -5pm
Thursday 20 January 8am-5pm
Saturday 22 January 8am-5pm
Sunday 23 January 8am-5pm
Thursday 27 January 8am-5pm
Saturday 29 January 8am-5pm
Redbridge Town Hall, Ilford, IG1 1DD
Saturday 15 January 10am – 6pm
Sunday 16 January 10am – 6pm
Saturday 22 January 10am – 6pm
Saturday 29 January 10am – 6pm
Pharmacies offering COVID-19 1st, 2nd and Booster dose
Mayors Pharmacy, Snakes Lane West, Woodford Green
Monday – Sunday 8am – 8pm
Wanstead Pharmacy, Wanstead High Street
Monday – Friday 9am – 6:30pm
Saturday 9am – midday
Britannia Pharmacy, 21 – 23 Horns Rd, Ilford
Monday – Friday 9:30am – 7pm
Saturday 9am – 6pm
Find out more about vaccinations in Redbridge
New rules – Lateral Flow Tests
From 11 January, people who receive positive lateral flow device (LFD) test results for coronavirus (COVID-19) will be required to self-isolate immediately and won't be required to take a confirmatory PCR test. This is a temporary measure while COVID-19 rates remain high across the UK.
Whilst levels of COVID-19 are high, the vast majority of people with positive LFD results can be confident that they have COVID-19.
Lateral flow tests are taken by people who do not have COVID-19 symptoms. Anyone who develops 1 of the 3 main COVID-19 symptoms should stay at home and self-isolate and take a PCR test.
LFD priority to key workers
Redbridge council has are making LFD test kits available for the following groups:
Any resident with a text or email from the NHS test and trace service, dated within the last week, that indicates they have been in contact with someone with COVID
Front line workers which include:

Emergency services (Police, Firefighters, Ambulance)

Redbridge street cleansing and passenger transport workers

Health and social care workers
We are limiting distribution to 1 box of 20 kits per resident and they are available at Redbridge Central library, Hainault library and Woodford library while stocks last.
The staff at the sites will ask for the appropriate ID if you are a key worker. Please provide your key worker identification when collecting your tests.
Testing in Redbridge
By testing regularly, residents can find out early if they have the virus to stop it spreading into the community.
Residents should take a rapid test whenever they are likely to experience increased risk, for example when spending time around others or when you are out and about in the community visiting shops or using services.
Getting tested is quick, easy, and safe. Make sure to get the right test which depends on whether you have COVID-19 symptoms or not.
For those without COVID-19 symptoms, you can collect COVID-19 tests from 50 pharmacies in Redbridge. Find the closest to you here
To collect an LFD test kit you will need to:
register for a collect code via gov.uk/get-collect-code or 119 prior to making a collection from a pharmacy
receive no more than two test kits per request
be 16 years or older
You can also get a rapid test at Redbridge Central Library, Ilford IG1 1ZJ on Monday to Saturday, 10am – 5pm (last test 4:45pm).
If you test positive and self-isolate, it helps stop the virus from spreading. Even if you are vaccinated, there's still a chance you can pass COVID-19 on, so you should continue getting tested regularly.
If you are identified as a close contact of someone with a positive case of COVID-19, and you are fully vaccinated you must take a PCR test as soon as possible.
For those with symptoms, you can get a PCR test in the following ways: