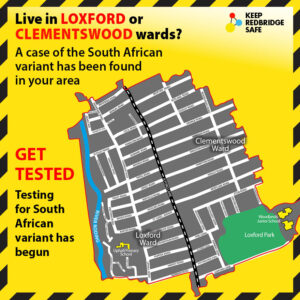 In the past two weeks, the Council has been busy implementing a surge testing programme in Loxford and Clementswood after Public Health England notified us that a case of the South African variant had been detected in the borough.
The Prime Minister has also announced his roadmap out of lockdown. Details on this can be found in the link to the government's webpage linked below.
Surge testing starts in Loxford and Clementswood
Mass testing, known as surge testing, started today in some parts of Loxford and Clementswood after a positive case of the South African variant of COVID-19 was found in the borough.
We're asking all residents over the age of 16 in these areas to take a COVID-19 test either at our mobile testing unit at Jubilee Gardens, Ilford Lane, or by using one of the home testing kits which will be offered by our door-to-door testing team over the next couple of weeks.
There is currently no evidence to show that this variant causes more severe illness, but we are working with the NHS to see if there are any more cases. We will be writing to residents in the affected wards early next week. If you or members of your community live in the areas specified in the graphic and flyer attached, please help us to keep you and your loved ones safe by taking a test.
More information on surge testing and what it means for you can be found below:
If residents do not live in the areas where the South African variant has been found and are unable to work from home, they can continue to get tested twice a week at our permanent rapid test sites.
We have started contacted community groups in the wards of Loxford and Clementswood. If you come across enquiries from your communities that are not covered in the Frequently Asked Questions, please get in touch so we can provide you with the relevant information.
Prime Minister maps out the road ahead
On Monday 22nd February, the Prime Minister announced a four-step roadmap out of lockdown starting with a return to face-to-face education in schools and colleges from Monday, 8 March. From this date, we will also be able to meet one other person outside for social reasons such as a coffee and chat on a park bench, or a picnic.
The roadmap is good and welcome news, but the government and the science and medical experts are clear that we will only be able to move to each step out of lockdown if the data shows it is safe to do so.
It is important that our communities continue to follow 'Hands, Face, Space' guidelines.
For more information and key dates about the roadmap out of lockdown click on the link below.
Further resources