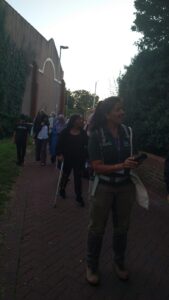 Redbridge Faith Forum and The Nature Conservation Team "Bat Walk" in Ilford – 4th September 2023
In partnership with the Nature Conservation Team (part of Vision Redbridge Culture & Leisure) and Redbridge Faith Forum, we ran a bat walk for faith members. Tajinder Lachhar of the Nature Conservation Team started off with a talk about bats before we headed out with bat detectors looking for bats from Vines Church. We walked along a green corridor known as Phillpotts Way and ended up at St Mary Church graveyard where we saw bats flying over the graveyard and feeding on flying insects.
We were fortunate enough to have very warm weather and 21 people attended from a variety of age groups and ethnicities and faiths. For most people, it was their first bat walk and initial feedback suggested they thoroughly enjoyed the talk and seeing the bats.
The Nature Conservation Team have some more bat walks which can be booked here.
Other bat walks – flyer