July Network Meeting "Redbridge & Covid – The Way Forward"
RFF held its first virtual (Zoom) network meeting in partnership with Redbridge Public Health on 28.7.20. RFF was very grateful to have Ian Diley, Consultant in Public Health give a most informative and helpful presentation and answer questions.
Please click here to view PowerPoint presentation
Ian pointed out that it is easy to be misled by erroneous information published in the press and social media – for example a few weeks ago there had been an increase of one extra case of Covid 19 being identified taking the total number of cases from 3 to 4 – an increase of 33% which on a larger scale would have been a major impact but in reality was only one case. This reporting led to rumours that Redbridge was experiencing a spike and can trigger real fears of a second wave. In fact over the last four weeks most London boroughs have shown a drop in the number of new cases identified and Redbridge is currently 12th. There have been a total of 312 Covid related deaths recorded in Redbridge but no Covid deaths in the week-ending 18th July. Across all settings, weekly deaths in Redbridge are now below the 5 year average for the same period.
Having taken this look back at the impact of the pandemic in Redbridge Ian reminded everyone that it is now vital to look to the future and engage with Test and Trace which is a key systematic approach to preventing the further spread of the virus. Test and Trace was introduced on 28 May and is a new national system for controlling the spread of Covid-19 by identifying people most at risk of being asymptomatic and infectious carriers. It has been designed to enable focused local outbreak control to replace national social restrictions ,
Therefore anyone experiencing new symptoms such as a fever, new continuous cough, change in their sense of taste or smell is urged to start self isolating and dial 119 or go online to notify and request a test.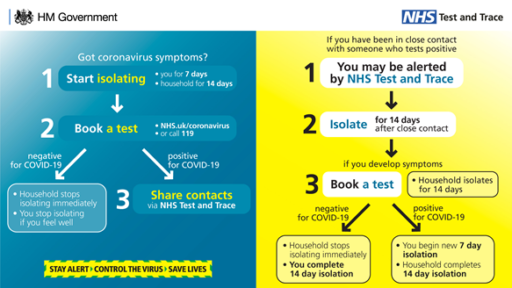 Redbridge is fortunate to have a permanent testing facility located in central Ilford in the Mildmay Road Car Park (off Albert Road and also next to the pedestrian underpass next to the Central Library) which is open 7 days a week 8am-8pm. A mobile test unit comes to the Gants Hill Library Car Park 3 days a week and there are also drive through test centres in other London boroughs. Home testing kits are also now available free of charge. The local Redbridg Wellbeing Service can also help a resident get a test if they are experiencing difficulties. Additionally if there is an outbreak in a particular site/community cluster then a rapid response unit can be sent there with 12 hours notice.
The government publish data on the number of Covid infections in electoral wards see https://coronavirus.data.gov.uk/#category=utlas&map=rate&area=e09000026 and public health also have access to confidential data concerning the number of confirmed cases by postcode.
The government has recently given local authorities local powers that can be used in the case of local outbreaks which include increasing testing and/or inspection of businesses, cancel organised events, close outdoor public spaces and as a last resort to limit or close schools and impost travel or movement restrictions. These powers are only to be used with discretion and the agreement of the Director of Public Health the Secretary of State has to be notified and reviews have to be made every 7 days.
Ian then kindly invited questions from the floor. In reply to questions about registering those attending faith venues it was agreed that best practice would be for all attendees to give personal contact details together with time and date of attendance so that test and trace could proceed quickly should someone test positive. This is very important as the virus is infectious for 48 hours before symptoms appear and for 7 days afterwards so the data needs to be kept securely for 14 days and can then be destroyed– contact details could be given in advance if booking a place to attend a service (which may well be necessary to adhere to social distancing requirements). If people are being asked to sign in they should use their own pen and everyone should wash or sanitise hands on arrival.
Concern was expressed that people are not adhering to social distancing in some public places or wearing masks in some shops. Comments were made that some retailers are strictly enforcing the wearing of masks and staff on the door are not letting shoppers enter the premises without one whereas some others do not appear to be. It was agreed that building up engagement is the best way forward as it is not practically possible for police or enforcement officers to be responsible for enforcing this but the council are planning to introduce a rating system for Covid secure compliance for businesses – similar to the hygiene rating scores already used for food establishments.
As guidance changes and some faith venues can now host weddings that may require a registrar the head registrar is sending risk assessment forms in advance to faith venues to be completed and checked before the wedding goes ahead.
The guidance is changing as scientists are learning more about the virus and it is now clear that it is much safer for people to meet outdoors.
The issue of increased death rates amongst the BAME population was raised and Ian introduced his colleage Louise to speak about this as she had been focussing on the disparities in outcome for groups which are not necessarily caused by ethnicity but may well be caused by the increased risk of exposure due to risk factors such as occupation, use of public transport, housing, number of people in the household, underlying health conditions. Puoic health will be looking to run community engagement events to protect people more eg encouraging handwashing, wearing of masks, use of PPE where appropriate.
Abbas Mirza of Barts Healthcare Trust advised that he has been working with other north east London boroughs including Hackney Newham and Tower Hamlets to take a deep dive into the statistics surrounding this issue and it would be good to share the findings to date.
A member of the Bahai faith explained that they normally hold their meetings in homes or hire halls as they do not have their own premises so all events have been held virtually since March but it was very hard for people not to be able to meet up and current guidance does not permit people from several households meeting in one home. Also some elderly community members have felt very isolated due to lack of access to technology.
Ian acknowledged that the social isolation is a problem for so many and it is particularly hard for the older generation including those missing seeing their grandchildren but it is currently not safe for people to meet up indoors in large numbers.
Carol Ellison introduced herself as a member of the Redbridge Learning Collaborative and invited people to email her to find our more about their work including providing some free training email address – learning.development@redbridge.gov.uk
The Chair thanked Ian very much for his very informative talk and helpful answers to questions. Please do email RFF at faith.forum@redbridge.gov.uk if you would like to suggest topics for future events.