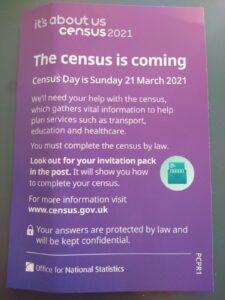 On Thursday 11th march, RFF hosted a zoom meeting regarding this important national event. The Census takes place every 10 years and is a vital way that, for example, both national and local government allocate resources such as schools, hospitals and emergency services. We welcomed Redbridge Census Engagement Manager Jehanzeb  Khan and Fatima Laila Munim who is the Redbridge Census Community Advisor. The meeting was attended by over 30 people from a wide range of faith and no-faith backgrounds.
They both provided a comprehensive overview of both the reasons for the need for the Census and also the process undertaking to gather this vital information. It is important to note that all the information gathered is completely confidential and protected by Law. No personal details are shared and remain confidential for 100 years.
They explained that whilst there is a legal obligation for each and every household to complete the Census and a possible fine for those who don't they stressed that they are here to help anyone who has any difficulty or questions.
After the Census Community Presentation there were a wide-ranging series of questions from the 'floor'. There was a solid discussion around the questions relating to faith and it was explained that whilst it is not obligatory to answer this part it is an important way that organisations can develop a true picture of their faith communities and, for example, seek funding.
There were also questions relating to how individuals will answer this as to whether they are 'practising' a particular faith or merely loosely affiliated to it. Our presenters agreed to feed this back to the Office of National Statistics (ONS) for future reference.
Simillary, the question of 'ethnicity' was raised and the point was made that this may not relate, for example,  directly to the passport that a person currently holds but is what the person considers themselves to be.
At the end of the meeting the presenters again stressed that they are here to help and can be contacted via :-
Jehanzeb Khan; Redbridge Census Engagement Manager
jehanzeb.khan86@field.census.gov.uk
Mobile: 07452938597
Fatima Laila Munim; Redbridge Census Community Advisor
fatima.munim68@field.census.gov.uk
Mobile: 07452 940463