RFF WOMEN'S INTERFAITH GROUP Monday 3rd October 2022   2.15pm to 4pm (walk starts promptly at 2.30pm)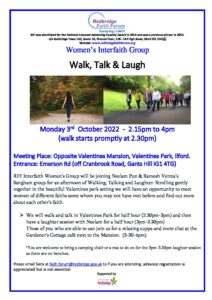 RFF WOMEN'S INTERFAITH GROUP Monday 3rd October 2022 2.15pm to 4pm (walk starts promptly at 2.30Pm)
Meeting Place: Opposite Valentines Mansion, Valentines Park, Ilford.
Entrance: Emerson Rd (off Cranbrook Road, Gants Hill IG1 4TG)
RFF Interfaith Women's Group will be joining Neelam Pun & Ramesh Verma's
Sangham group for an afternoon of Walking, Talking and Laughter. Strolling gently together in the beautiful Valentines park setting we will have an opportunity to meet women of different faiths some whom you may not have met before and find out more about each other's faith.
We will walk and talk in Valentines Park for half hour (2.30pm-3pm) and then
have a laughter session with Neelam for a half hour (3pm-3.30pm)
Those of you who are able to can join us for a relaxing cuppa and more chat at the
Gardener's Cottage café next to the Mansion. (3-30-4pm).
*You are welcome to bring a camping chair or a mat to sit on for the 3pm-3.30pm laughter session as there are no benches.
Please email Saira at faith.forum@redbridge.gov.uk to if you are attending, advance registration is appreciated but is not essential